THE NIGHT BEFORE CHRISTMAS PYJAMA PARTY
Our famous Christmas parties are now in the diary so get yours out and make sure you and your little elves don't miss the BEST PARTIES IN TOWN!!!!
We just love to create magic and memories
Every child will be in a colour group and their fantastic Head Elf will guide them through all of the exciting activities. The Head Elves love fun and mischief and they really want all of their little elves to have the best time ever!!
We have two parties because one is NEVER enough!
Nanna Elf and her little helpers invite you to join in with the festive fun on:-
Thursday 19th December 2019 4.30 pm – 7.00 pm
or
Friday 20th December 2019 5.00 pm – 7.30 pm.
The tickets are on sale at £14.95 per child. Adults and under 1's are free. The price of the ticket includes a hot meal too!
Nanna Elf will read THE NIGHT BEFORE CHRISTMAS before the Head Elves take their group all around the softplay where they will find the gotto, glow disco, Christmas crafts, treasure hunt and so much more festive fun…….!
Grab your tickets now by visiting us at our reception or phone us on 0191 2150055. Please have the children's food choice ready when phoning. Choices are: BURGER HOTDOG VEG PASTA
Don't delay because THESE PARTIES SELL OUT EVERY YEAR!!!!
WE CAN'T WAIT FOR CHRISTMAS!!!!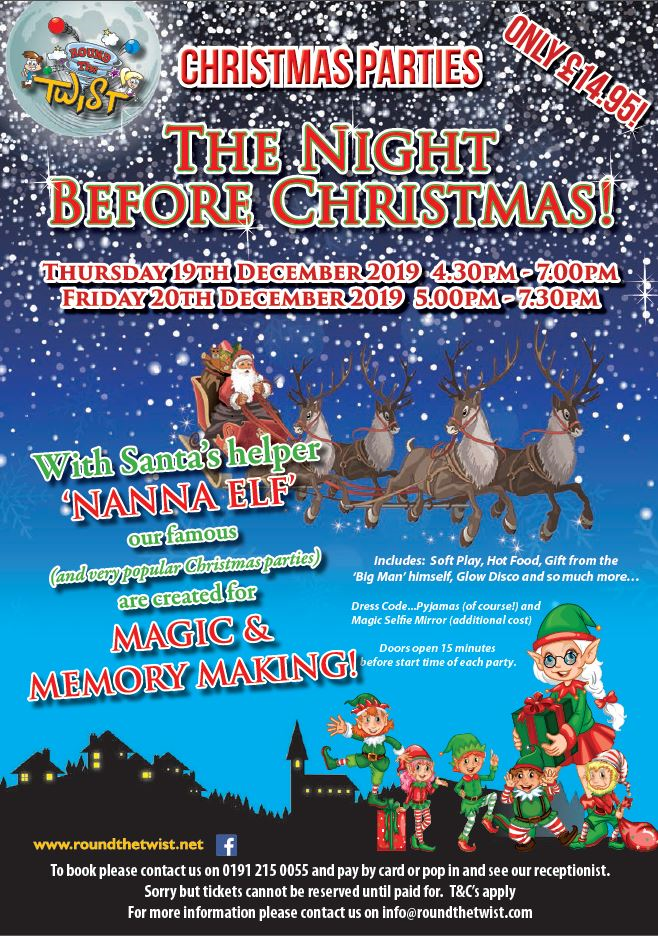 Lots of Love NANNA ELF XXXXXXXX